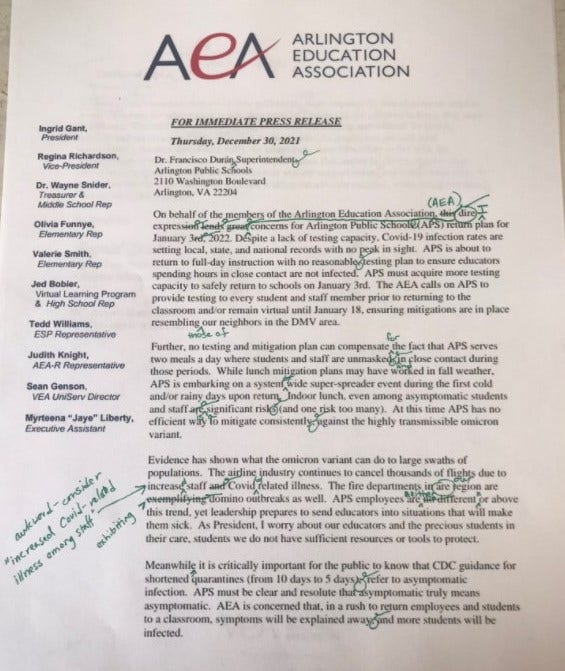 A Virginia teachers' union was ridiculed online after sending a letter riddled with grammatical and typographical errors. The union president explained that the union had mistakenly published a draft rather than the completed letter.
"On behalf of the members of the Arlington Education Association, this sinister phrase lends great concern to the plan to return Arlington Public Schools (APS) by January 3, 2022," begins the letter from the President of Arlington Education. Association (AEA) Ingrid Grant sent Arlington Public Schools Superintendent Francisco Duran on December 30, 2021. The letter raised concerns about the omicron variant of the coronavirus causing the COVID-19 pandemic, a more contagious variant that has spread quickly in the United States.
VIRGINIA SCHOOL DISTRICT "ENDOCTRINE" OF CHILDREN WITH CRITICAL THEORY OF BREED, PARENTS CLAIM IN PROCEEDINGS
Ellen Gallery, a home-schooled mother of three who lives in the area, said she and her children read the letter, correcting the errors. She and her children marked what they identified as eight mistakes in this opening sentence.
The mother posted a photo of the letter with lots of corrections, blaming AEA for omitting words, adding unnecessary commas, confusing subject-verb agreement, etc.
A pair of offensive sentences read: "The fire departments in the area are also examples of domino epidemics. APS employees are no different or above this trend, but management is preparing for it. send educators into situations that will make them sick. " In the first sentence, Grant used "are" when she wanted to clearly spell "our". Gallery and her children suggested "neither different nor above" for the second sentence.
"The next few weeks are going to be very difficult and without the testing capacity and the necessary mitigations it will be dangerous," Grant wrote in another sentence. Gallery corrected "il" to "they", since the pronoun seems to refer to "the next few weeks".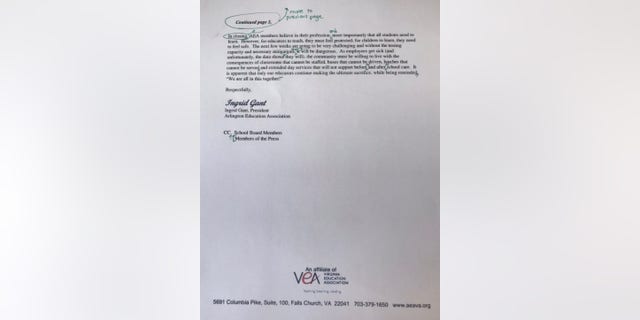 "Being able to write a clear, persuasive letter is a foundational skill that all students should master before high school," Gallery told Fox News. "The quality of this writing was so glaring that it distracted attention from the writer's message."
On Saturday, the Virginia Education Association – the teachers' union of which AEA is a part – sent Fox News a statement from Grant explaining the errors.
"The COVID-19 pandemic has persisted for much longer than any of us in the Arlington community expected," the teachers' union president wrote in the statement. "A draft letter was sent instead of a fully edited letter in a rush to meet the last challenge. While I personally take full responsibility for this error, errors in my letter should not be made in any way. distract from his message: Arlington students and educators are returning to school on Monday without sufficient test supplies and with a lunch plan that ignores the increased risks associated with the Omicron variant. "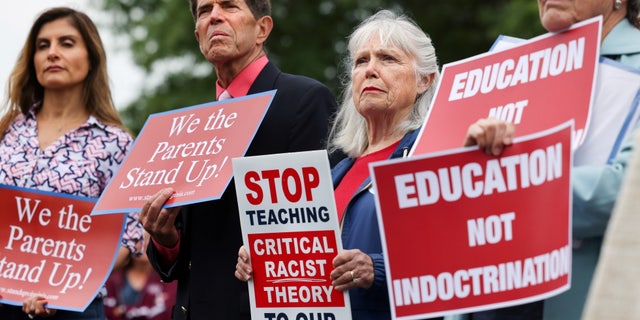 Gallery told Fox News that the AEA's concerns about COVID-19 "should have been discussed months ago, not days before the children were supposed to return to school. Virginia received billions of taxpayer dollars to make the changes necessary to enable in-person learning. We have known Omicron for over two months. As a homeschooled mom, I know my children are deeply fortunate not to have missed a single day of education because of the covid or covid policy. "
CLICK HERE TO GET THE FOX NEWS APP
"As a taxpayer, voter and person who believes that a good education is a necessary foundation for a fulfilling life, I am heartbroken for Arlington students," added Gallery. "All children deserve an effective, competent, in-person education. This letter does not inspire confidence that the leadership of the Arlington Education Association is on their side."
Corey DeAngelis, national director of research at the American Federation for Children, called the gallery's response to the letter "epic."
"But the biggest problem is that the teachers' union is once again signaling its support for the closure of schools," he warned. "They want all students and staff to be tested before schools reopen, but this is not the norm for any other company, and the added barrier could have practical problems in terms of logistics and testing supply. "
"Enough is enough," added DeAngelis. "It's time to free families from the clutches of teachers' unions once and for all. Virginia public schools are spending more than $ 13,000 per student per year. This money should go directly to families so they can find money. alternatives. Many families in Virginia felt powerless last school year Funding students directly would make families never again feel powerless over their children's education. "