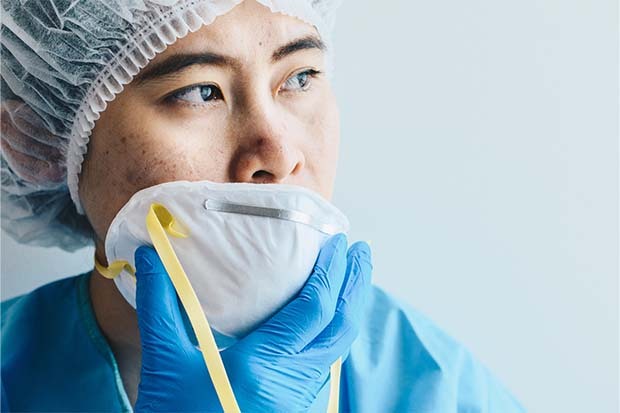 Teaming up in a pandemic: Students and professors researched the impact on nurses
By Sydney Schwartz GrossMarch 30, 2022
As the pandemic erupted in the spring of 2020, students saw their lives turned upside down by the sudden emergence of COVID-19. Their classes were moved to Zoom, study abroad programs were canceled and many summer internships failed.
But for Sophie Trachtenberg '21 and Mariah Lewis '22, there was a brilliant one-liner: the opportunity to collaborate with sociology professors Sara Shostak and Wendy Caddy on an urgent research project on the impact of the pandemic on nurses. and respiratory therapists in Massachusetts General Hospital COVID-19 Intensive Care Units.
Cadge had collaborated with MGH nurses on previous projects. "When my fellow nurses at the MGH reached out at the start of the pandemic, I wanted to help," Cadge explained. "These nursing leaders believed that research on nurses in the first wave would help nurses cope and could inform subsequent nursing care. We reached out to the early days of the pandemic to see if we could help them learn more about provider experiences. »
Cage and Shostak felt this was an urgent and important project and wanted to offer whatever support they could in the midst of the crisis; they also recognized that their project could benefit immensely from student research assistance.
"It was a new experience for me, and I think it was the best thing I could have done," Trachtenberg said. "I've always loved learning and being in the classroom, but this really took me to the next level and challenged me."
Class work led to research opportunities
Trachtenberg, a psychology major, and Lewis, a psychology and sociology major, had both taken courses with Shostak, including classes in body and health sociology and research methods. Trachtenberg had also studied with Cadge and had been a teaching assistant for Shostak. When Cage and Shostak realized they would need research assistants for this project, Shostak approached them.
"It was like pure luck," said Lewis, whose summer internship had failed. "Students hear all the time that no matter what discipline you work in, you can always do research. It's one thing to say that, it's another to be a reality. To have the opportunity to be able to get a sense of what it was like for frontline nurses dealing with such a terrible disease, to have that opportunity as an undergraduate student, was something that I was not going to not pass up.
The opportunity to work with Trachtenberg and Lewis was particularly relevant for Cadge who was collaborating at the time with Dorothy Hodgson, Dean of the School of Arts and Sciences, and Margaret Lynch, the first Director of Undergraduate Research Partnerships with the faculty, to build the office. undergraduate research and creative collaborations. This effort helps connect undergraduate students who want to do research with faculty and provides funding and support for such research to all students, regardless of financial need.
Chain the stories
Throughout the summer, Lewis and Trachtenberg scheduled interviews, drilled down on data, and transcribed interviews with 16 nurses and four respiratory therapists who cared for patients with COVID-19 in intensive care units. They also joined in a weekly phone call with nursing leadership at Massachusetts General Hospital, hearing powerful and emotionally charged stories of how nurses were navigating the extraordinary new demands of their jobs and coping with challenges. difficult experiences. In the fall, they began helping with data analysis and coding, applying what they had learned in their research methods courses. Their goal, Trachtenberg said, was to "tie people's stories together, to determine where there was common ground, and to determine where there were connections between nurses' experiences."
"We were conducting an exploratory study and trying to understand how healthcare providers needed to adapt and change to meet the needs of this influx of very sick patients while working with a new virus that they had never treated before. ", Trachtenberg said. "The data was really, really rich and hard to decompress. It was just a tumultuous time for the nurses, and you could hear the emotion in their voices as they spoke.
The MGH-Brandeis Research Group – which includes nursing and respiratory therapy leaders from MGH and the Brandeis team – has published two articles, one on how frontline workers have adapted to new staffing models that allowed Mass General to increase the capacity of its ICUs; and a second on how frontline providers perceived the racial inequalities they saw in ICUs. Trachtenberg is lead author on a third paper, currently under review, about the emotional experiences of nurses and how they coped with the challenges they faced during the first surge of the pandemic.
"It has been an extraordinary privilege to partner with our colleagues at the MGH to learn more about the experiences of nurses and respiratory therapists in COVID-19 ICUs," Shostak said. "With Sophie and Mariah's support of this project, we were able to honor the stories of frontline providers and quickly transfer their important insights into the research literature. »
Research opens a new path
Lewis had never considered doing academic research before and says the project helped her gain confidence and change her undergraduate trajectory. Since then, she has served as a peer teaching assistant for Professor Shostak's sociology of body and health course, completed other internships, and been accepted into Teach for America. She also embarked on a research project in sociology for her graduation thesis.
"Being able to do this junior research year has really helped me find other positions," Lewis said. "If it hadn't been for the kindness of Professor Shostak to reach out to me to help with this COVID study, I wouldn't have been as successful as I am now."
"We reached out to Sophie and Mariah because they are excellent students and have demonstrated exceptional writing skills and a deep sensitivity to ethical issues," Shostak said. "When students have a solid grounding in research methods, they can play an important role in faculty research projects."
Trachtenberg, who graduated last May, has become a Presidential Fellow at Brandeis, a position designed to provide new graduates with a unique, challenging, and in-depth window into how a complex organization works. She says the COVID research project has given her the skills and knowledge to be successful in her role today. She also hopes to return to sociological research in the future.
"For me, the rewards go beyond the context of writing these articles," she said. "I've developed great teamwork skills, learned to communicate my ideas with others, and dramatically improved my writing. And, most importantly, I've gained two lifelong mentors.