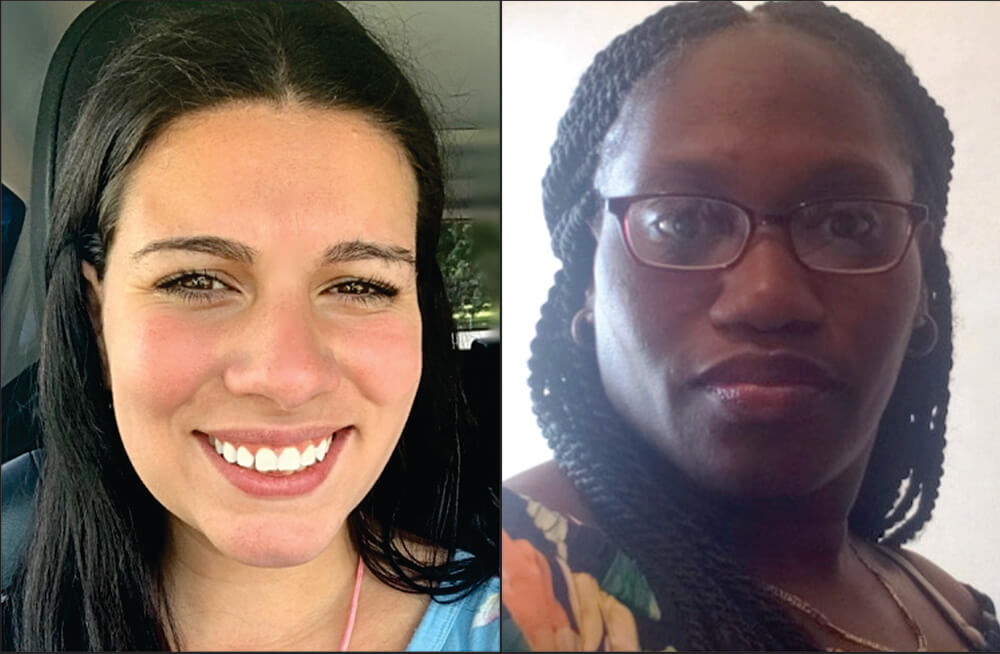 Designed to provide access to essential computer science courses for underrepresented students and students with disabilities living in rural and urban areas, GSE was chosen as one of 43 recipients across the country to receive a $1 renewable grant. $.4 million for a 5-year initiative to develop and implement the YAM program. Currently, GSE leads the coordination of the creation and implementation of this innovative program in Austin, Texas, and New York.
Led by Professors Susan Courey, Roslyn Haber and Timothy Bellavia, Samantha Wright, 20 graduate with a Masters in Special Education (grades 1-6), and Tina Williams, 21 graduate with a Masters in Special Education, Generalist, from the Grades 7-12, joined the YAM team to provide a teacher's perspective to seamlessly implement and design these essential lessons. We recently caught up with these alumni who discussed their vital role in creating this program and their passion that drives the project, as well as why math, music and computational thinking are essential for students can advance their studies and future academic careers.
What role do you play in the creation of the YAM program?
Williams and Wright: The roles we play are the creators of both the YAM program and the professional development component of the program. We provide kindergarten teachers with innovative strategies and tools to incorporate music into their math curriculum, with each lesson designed to meet diverse learning needs through in-person and/or virtual instruction.
Why are you passionate about this project?
Williams: I am passionate about this project because it allows me to share my knowledge and my love for music and education with children all over the world. I studied vocal music at Fiorello H. LaGuardia High School of Music & Art and Performing Arts in New York and was a national performer before becoming a teacher, so this program combines my passions for the things I love most !
Wright: I am passionate about this project because I know the value of music in education. As someone who has worked with many learners, including students with disabilities, music offers ALL learners a different avenue to express their knowledge and abilities. Most people may not know that music activates many parts of the brain. I have seen students overcome stuttering through music as well as non-verbal students who like to sing. Music is a universal language that benefits all types of learners. The COVID pandemic created many challenges while working on this project, but we persevered and worked as a team to deliver this groundbreaking program.
What skills did you learn in the GSE class that you leverage in this process?
Williams: The skills I learned in the GSE classroom that I am able to apply during this process include providing multiple entry points for different types of learners, integrating audio, video and pictures to increase engagement, which will help kindergartners focus for longer periods of time. time and break down the activities for students to succeed.

Wright: In the GSE classroom, I learned many skills that I used while working on the YAM project, such as lesson planning, the vital importance of differentiating instruction, and integrating technology into my education.
Are you currently a teacher? If so, where do you work and with what age group?
Williams: I am currently a special education teacher in an urban area. At Central Queens Academy Charter School, I teach math, reading, writing, and science to seventh graders according to New York State Next Generation Standards.
Wright: I am currently a third-grade distance teacher in a suburban Long Island school district. I also teach an after-school life skills program for students with autism, ages four to six.
Why is student engagement in math, music, and computational thinking critical now and for their educational and academic careers in the future?
Williams and Wright: The work we do and the ease with which students will be able to engage with math, music and computational thinking is essential, as students are expected to learn increasingly complex subjects at a younger age. Music is woven into the culture of each of our lives and is one of the easiest ways to reach students, regardless of their background. Computational thinking teaches students to think outside the box and consider different ways of solving problems, both of which are valuable life skills. To help students progress in the future, an understanding of early mathematical foundations is essential for students to succeed in this ever-changing digital world.
How has participating in the development of the YAM program influenced your practice in the classroom?
Williams: Although I teach in a middle school, working on the YAM project reminded me to be creative in how I teach my students. I strive to make learning fun and engaging by adding videos and music whenever possible, which are two essential tools we've used throughout this project. My hope is to make learning accessible to all students, regardless of their difficulties.
Wright: My participation in the YAM project has influenced my daily classroom practices in several ways. This project really highlighted the importance of the arts and the students' ability to express themselves through any art form. I now allow my students weekly opportunities to express themselves through this medium. I'm also much more active when I include technology, animation, and engaging programs in my classroom lessons. It has increased my students' motivation to learn and improved their technology-related life skills.
In 2021, the YAM project produced three short animations, which won two awards including the Viddy Gold Award and the MarCom Gold Award. More recently, the animation "Treble Leads the Class" received two international accolades, including the AVA Digital Platinum Award for Outstanding Animation Short Form Web Video and the Hermes Creative Platinum Award for Video Creativity/Outstanding Animation.. Along with the Graduate School of Education, SRI International, Daniel's Music Foundation, University of Texas at Austin, WestEd, mathematician Charlie Patton, music expert Endre Balogh, and the Herbie Hancock Institute of Jazz all play vital roles in the development of the YAM project.