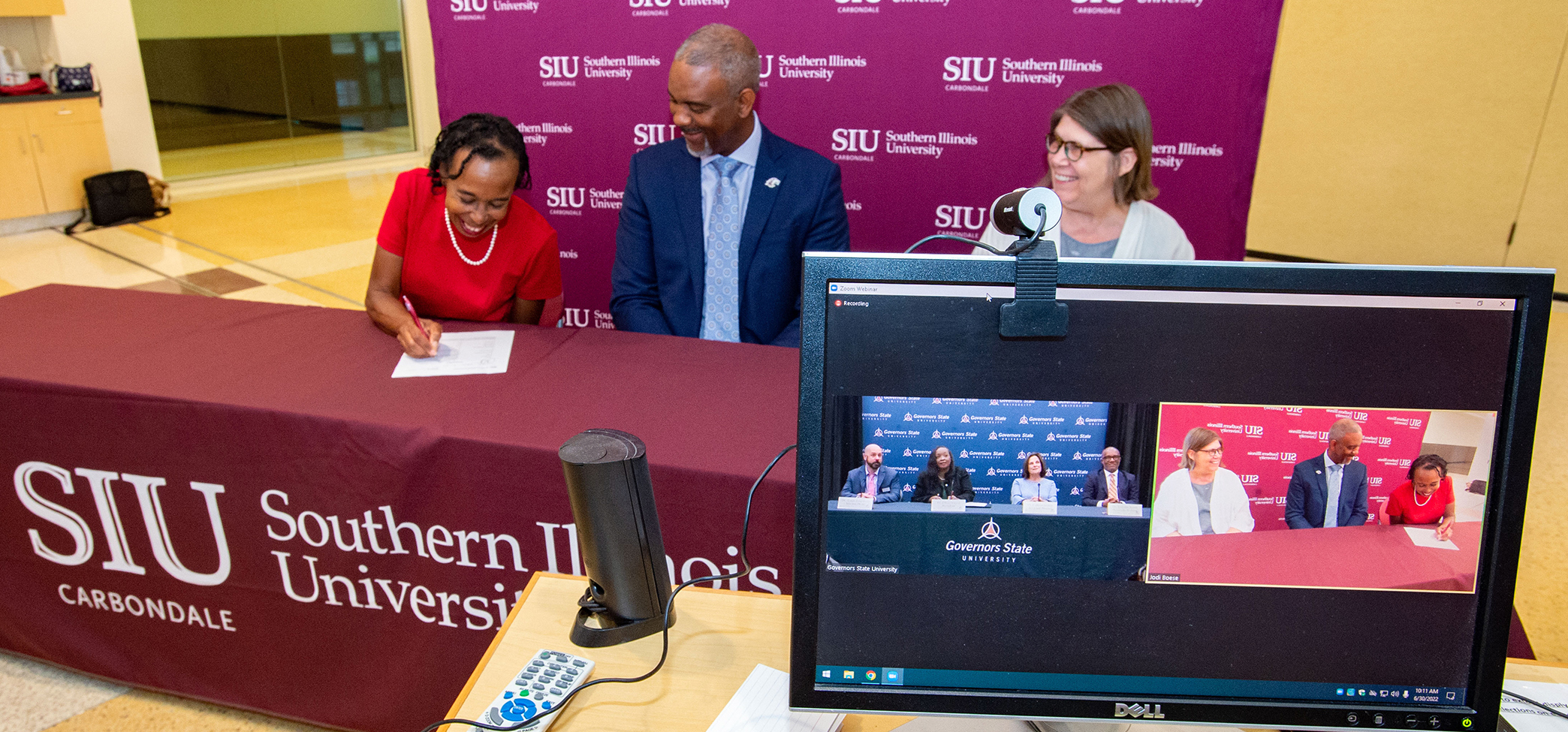 SIU Carbondale Chancellor Austin A. Lane, center table, and Governors State University President and SIU Carbondale alumnus Cheryl Green, second from left on screen, celebrate the institutions' new partnership today (June 30) in a virtual ceremony. With Lane are, from left, Dean of the Camille M. Davidson School of Law and Lizette Chevalier, Associate Vice-Rector for Academic Programs. (Photo by Russell Bailey)
June 30, 2022
GSU partners with Southern Illinois University to offer JD degrees to students
CARBONDALE, Ill. — In a historic move to create pathways to college and graduate school and diversify the pipeline to the legal community, Governors State University (GSU) this week entered into an agreement with Southern Illinois University Carbondale (SIU) which will allow students to obtain both a bachelor's degree and juris doctor (JD) in six years.
Under the unique 3+3 partnership, a mapped curriculum will be offered to students of Anthropology and Sociology, English and Political Science. According to the partnership, students will complete their final year of undergraduate studies at GSU, while enrolled in their first year of law school and living at SIU Carbondale.
The partnership will shorten the traditional seven-year schedule of the juris doctor by up to one year and also allow both schools to explore other concurrent degrees such as JD/MBA, JD/MSW or JD/MPA.
GSU President Cheryl Green first set the BA/JD program as a goal at the start of her presidential term, which begins in 2020. "Governors State University is honored to work with the Southern Illinois University School of Law to advance the ideals of equity and inclusion in the field of law. We know the biggest barrier to getting a degree is financial, and this partnership was created with that in mind. By offering students the opportunity to earn two degrees in six years, we improve their chances of success while saving them thousands of dollars.
"I am excited about the opportunity before us to break down barriers and increase diversity, equity and inclusiveness in the field of law. I am also excited to create opportunities for GSU students that do not currently exist on our campus. This is an innovative partnership that we can all be proud of and that I look forward to taking forward on our campus," said Dr. Green.
Green, who earned her master's and doctoral degrees at SIU Carbondale, said the partnership represents a coming-of-age moment for her.
"Southern Illinois University is a top research institution that has allowed me to get a high quality education without student debt. I am proud to provide the Governors State Jaguars with the same opportunities that have served as the foundation of my career," she said.
Camille M. Davidson, Dean of the SIU School of Law, said she was thrilled to be working with an SIU alumnus at Carbondale to break down barriers to earning a law degree. "President Green is a Saluki, and it's exciting to work with her and her team," she said.
"There are so many professional opportunities for people who have a juris doctor. These collaborations give us the opportunity to share information with undergraduate students and help prepare them for success in law school.
Davidson noted the lack of diversity in the legal profession, citing statistics showing the field is about 4.5% African American and 4% Latinx. Looking for a partner that offered academic excellence and diversity, GSU ​​was the perfect fit. Governors State is both an MSI, a minority-serving institution, and an emerging HSI, a Hispanic-serving institution.
SIU's efforts to diversify the legal profession also include a summer program to provide college juniors and seniors with preparation for law school, insight into post-graduation opportunities, and interaction with attorneys, law students and law school professors.
"One of the GSU students has been selected to attend our first Pre-Law Diversity Summer Institute," Davidson said. "We hope to have more participants next year."
About Governors State University
Governors State University is a comprehensive four-year university with nearly 5,000 students on a rich and culturally diverse campus outside of Chicago. The university, founded in 1969, provides exceptional and accessible undergraduate and graduate education for individuals seeking to make a local, regional and global impact.
About SIU Carbondale
A nationally ranked public research university, SIU Carbondale offers a unique tradition of access and opportunity, inclusive excellence, innovation in research and creativity, and exceptional teaching focused on student success. . Distinct among its peer institutions, the SIU grants research opportunities to undergraduate students that other universities may reserve for graduate students. A regional economic catalyst with world-class facilities nestled among forests, a lake and university-owned farms, SIU strives to achieve its mission while advancing diversity, equity and inclusion and promoting the sustainability. The SIU Law School was founded in 1973 in the public interest of serving the public good. The ABA-accredited and AALS member law school is one of the 10 smallest law schools in the country.