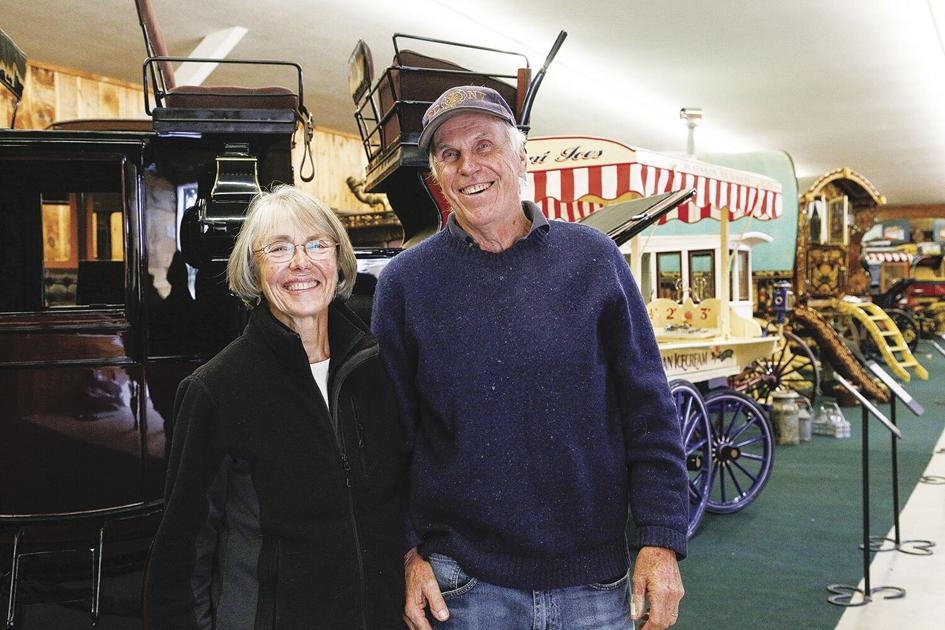 FRYEBURG, Maine – Vintage wagon collectors Sut and Margaret Marshall of Madison are eager to once again display their magnificent wagons in the fair's popular horse-drawn wagon barn, as they have been doing since 2004.
Last year the fair went virtual due to the pandemic.
"We missed the fair last year," said Sut and Margaret during a visit this week to the 16-vehicle show, which features two new models as well as a few favorites from the past.
"We are very aware of what the fair means for the economy of the region and in particular for the non-profit groups that depend on the fair," said Sut.
"We know how much people look forward to it every year – people plan their vacations to come here," he added.
This year's horse-drawn wagons theme is a 'Favorites' collection, featuring 14 popular old wagons as well as two new wagons: the Abbot-Downing Stagecoach # 605, the last one built by its factory (see related article ), and a Brewster Park dredge built in 1902 that served the whims of the well-to-do elite. It came with a cooler to keep their champagne cool while traveling to sporting events such as fox hunts and obstacle courses.
This latest luxury vehicle was custom built for William George Sickel, director of United-American Shipping Lines.
"It has the top shelf for champagne glasses and insulated coolers for sandwiches and your drinks," Sut said, noting that he and Margaret acquired it at auction in October 2019.
It is superbly restored in its original colors, red and brown.
"We will also be exhibiting three of our popular gypsy wagons – we had hoped for a fourth, but it turned out to be too big to fit under the overhead door," Sut said.
"Our son, Todd, who does all of our moves for us, reminded me that when we introduced him a few years ago we had to take the wheels off – it's not like we can just leave the air comes out of the tires, "he said. noted.
"So we chose to display three of them, which is good," said Sut, noting that her son is still "the key to every year's cart move operation."
Each of the cars on display this week offers a unique link to the past.
The exhibit ranges from turn-of-the-century Leisey Brewery Dray in Cleveland, pictured with a bespoke four-horse leather harness, to an early 1900s Cunningham hearse, complete with a used (but thankfully empty) wooden casket (which, while this particular display is a little spooky, it'll also get you in the mood for the upcoming Halloween season).
The Marshalls also display:
• A West Oxford Agricultural Society mountain wagon (owned by the fair), also manufactured by Abbot-Downing. Mountain wagons were popular at resorts in the White Mountains, where they were used to transport hotel guests around forest valleys and on motorable roads to mountain tops.
It has been said that hotel guests prefer mountain wagons because their open sides allow for optimal visual experiences.
The fair wagon was donated by the late President of the West Oxford Agricultural Society, Philip G. Andrews Sr.
• An omnibus from the Mount Washington Hotel (now the Omni Mount Washington Resort).
• Abbott's Dairy milk car.
His favorite cart for sentimental reasons, Sut and his two siblings gave this cart to their father, Abbott's Dairy owner Shumway Marshall, as a birthday present after decorating it with Abbott's letters.
"We used an advertisement from The Reporter Press circa 1942 for the words that are painted on the sides," Sut said. The wording: "Abbott's Dairy, established in 1911, John C. Abbott, Prop., Tel. 54-13, Conway, New Hampshire; Morning and evening deliveries.
Shumway Marshall, who died in 1998, operated Abbott's Dairy from 1942 to 1978, selling milk and ice cream, then switched to making his own ice cream as well as distributing other brands from 1978 onwards. .
Sut worked for his father from 1968 onwards. As the story goes, in 1981 a bearded guy named Ben who was coming down the Saco River on a summer day climbed the bank, knocked on the door, and walked away. introduced to Sut, explaining that he and his partner Jerry "were looking for a distributor for their ice cream business in Vermont." The rest, as they say, is history – Abbott's being their distributor from 1981 to 2010).
The exhibit also features the aforementioned three gypsy wagons, all from England: an open-top wagon, an open-top wagon and a restored Reading Gypsy Vardo for Juana Hearst from the famous William Randolph Hearst family of California.
"The gypsy wagons are all from the early 1900s," Sut said. "The first craftsman would build the cart; the second made the ornate sculptures; and the third did the painting. And when they finished they had something pretty ornate. Then the gypsies would roam the countryside in small groups, camping in a farmer's field or wasteland until they were told to leave.
"They were pretty resourceful; they had their own culture, very autonomous, "said Sut.
You will also be amazed by the other vehicles: a Clarence from the Royal Mews in England; a wagon of freshly roasted peanuts and Chicago Cretors popcorn; and a 34-seat garden bus.
The exhibit also features a few "working" vehicles – these are Margaret's favorites.
"I especially like work vehicles because it's a connection to workers of the past," she shared, pointing to the 16-man firefighter, "The America," who was made in Philadelphia in 1840 and served as the fire department of Kutztown, Pennsylvania.
His other favorites include the Studebaker street sweeper and the Fulgoni ice cream cart from England.
The Fryeburg Fair first opened the Horse-Drawn Wagon building in 2004 as part of a collaborative effort with the Marshalls.
The year before, they had been approached by local vet and Fryeburg Fair administrator Dr Eugene Hussey of North Conway, who asked them if the fair built a building where they would display their carts every year.
"The partnership has worked well over the years," said Sut.
Since their collection began over 25 years ago, the Marshall's wagon group numbered to 200, but Sut has since reduced to "only" 100.
"My family would like me to reduce it to one, not 100," said Sut with a laugh, admitting her hobby is more like an obsession Margaret has had to endure over the years.
Yet at 79 he has not lost his passion for vintage cars but admits that he and Margaret have aged, like many other collectors, they have to assess the fact that they are not getting any younger and that none of their three children are only interested in continuing the collection.
"It has happened to many collectors across the country. The younger generation is not interested. As a result, the collections are not as valuable as they were when the market peaked around 15 years ago. So we take it year by year, working with the show and we are grateful to them for this opportunity, "said Sut, adding," Like everyone, we are just happy to see the show again.
Margaret agreed, noting that they enjoy sharing the story that is a part of each vehicle on display.
So how did Sut and Margaret get into the wagon pickup (or more specifically, how did Sut get into it which, out of necessity, as previously stated, required Margaret's support?
"About 27 years ago my dad wanted to give my brother (Pit) and me a wagon for Christmas because we both had a horse but no wagon," said Sut.
"Dad heard that (the late North Conway Bank president) Jean Fernandez had cars for sale. He had nine. We couldn't quite decide which of the nine we wanted, so Dad said he would take the nine and we would decide later and sell the other seven after we made our choice. So that's how it started.
They stored eight of the wagons in the late Chet Lucy warehouse in Conway Village – but tragedy struck in April 1996 after two miners burned down the warehouse. Fortunately, a car that belonged to the late Dr Harold Shedd – known as the "bone doctor" for his early work in restoring bones for pioneer skiers in the 1930s in North Conway – had been stored at a other place.
"I still have that one," Sut said.
After that Fernandez had two Concord coaches for sale – Sut chose one that still had its original coat of paint and design that had once worked between Northwood to Epsom, NH, and then from Bridgton to Harrison, Maine after that.
"It was really the start," said Sut. "After that we met Ken Wheeling, who knows cars so well. He had come to North Conway and had stopped by Dick Plusch Antiques and asked him if he knew if anyone was picking up wagons in the valley. And Dick referred it to me.
"So Ken went down to the dairy building and that was the start of our friendship. He's like family now and we talk every week. I call him "the professor" because he's so knowledgeable – not just about the cars, but everything. He will come back to join us at the fair, as he has done since our first year in 2004, "said Sut.
In a phone interview, Wheeling – who regularly writes scholarly articles for the Carriage Journal – spoke of his equally high regard for the Marshalls and their collection.
"Their collection is high end," said Wheeling, 83. "Sut and Margaret started collecting utility vehicles – very few people collect utility vehicles, and none of the collections are as extensive as Sut and Margaret's."
"For me, I just think these vehicles are part of our history that should be saved. And once they're gone, they're gone, "said Sut
The Fryeburg Fair runs from October 3-10. For more information call (207) 935-3268 or go to fryeburgfair.org.