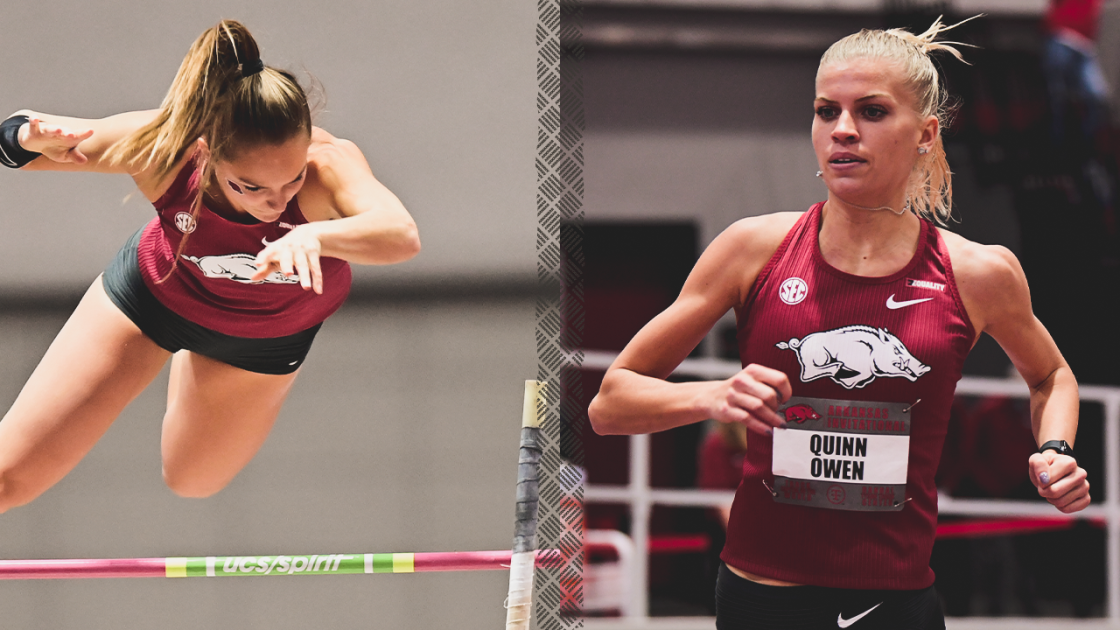 LUBBOCK, Texas – A pair of victories for the Razorbacks included a collegiate peak performance from Nastassja Campbell in the pole vault while Quinn Owen broke a meet record by claiming the mile at Texas Tech's Red Raider Open held Friday at the Sports Performance Centre.
A runner-up performance from Arkansas in the 4×400 relay generated a time that ranks fourth all-time at UA and is currently second on the 2022 world list.
"Overall, I think we've taken a step in the right direction," said Arkansas women's associate head coach Chris Johnson. "Obviously you always want a little more and execute a little better, but overall the effort was there. They got out there and competed hard in a new environment outside of our stunning indoor facility.
"It was a good meeting, and it was a good eye-opener for the young girls to see here where we are and here is where we are trying to go and there is still a lot of work to do to get to this point."
Campbell set a career best indoors and collegiate lead mark of 14-7.25 (4.45) to lead a 1-2-4-6-7 finish by the Razorbacks among a field of 16 on the vault. perch. Campbell moved to tie No. 5 on UA's all-time list, matching former Desiree Freier and current teammate Bailee McCorkle.
Taking the college lead for 2022 heading into this weekend, Campbell bettered the previous best college record of 14-5.5 (4.41) set by Erica Ellis of Stephen F. Austin in December. She also currently ranks sixth on the 2022 World Indoor List.
Campbell's effort bettered her previous indoor record of 14-4.75 (4.39), set back in 2019 when she competed at the SFA. She had a first clearance attempt at 14-3.25 (4.35), tying her indoor record as a Razorback for the third time. Then she made her winning height on a second attempt.
Moving the bar to 14-11 (4.55), Campbell attempted to produce an all-time best mark as his best outsider measures 14-10.75 (4.54) from 2021, which also ranks No. 5 on the UA All-Time Outdoors list.
"I jumped 4.39 in my freshman year, so I really tried to get past 4.40 on the inside," Campbell said. "It feels good to have some consistency. My mindset is more about trying to get back to how I used to jump at the Olympic trials in the summer, where 4.50 was a consistent bar for me. I think it was a very good step in the right direction.
"My second attempt at 4.55 was definitely the closest. My third attempt was a bit of a different jump, but it was still a good attempt. is really good. So I'm happy where I am.
Elien Vekemans finished second, erasing a career best of 14-3.25 (4.35) to better his Belgian national under-23 record and move to 10th place on the UA all-time list with April Steiner. The previous indoor record for Vekemans was 14-1.25 (4.30) set in December when he won the Wooo Pig Classic.
On Belgium's all-time indoor list, Vekemans is now an equal No. 2, with an equal No. 7 performance.
"I was really excited for Elien," Campbell noted. "For PR of a short approach in December and then having another PR today, it was really great to see that for her. She made some good jumps today.
Johnson added: "Nastassja set her PR inside which was fantastic and Elien also set a PR so she looked good too. The other ladies competed hard and Coach Compton makes sure this group is going well.
The rest of Razorback's pole vault team included McCorkle in fourth and Kaitlyn Banas in sixth, both clearing 13-5.25 (4.10) while Mackenzie Hayward finished seventh with one clearance from 12-11.5 (3.95).
Owen won the mile in a meet record time of 4:51.15 and led the field by four and a half seconds while eclipsing the meet record of 4:53.71 set by NJCAA Champion Flomena Asekol of the New Mexico JC in 2020.
Owen splits in the included race 1:09.97, 1:13.40 [2:23.37], 1:14.38 [3:37.75], and 1:13.40. Owen's runner-up was Abilene Christian's Irene Rono in 4:55.69 while SMU's Steffi Jones placed third in 5:05.18.
The Arkansas quartet of Paris Peoples (53.79), Rosey Effiong (51.91), Morgan Burks-Magee (51.90) and Shafiqua Maloney (51.49) produced a time of 3:29, 09 in the 4×400 relay to finish behind a world-leading 3:28.62 by Kentucky. Texas (3:31.26) and LSU (3:35.69) finished third and fourth in the section.
"Kentucky came out and ran a great run, and executed a little bit better than us," Johnson noted. "Our ladies competed and fought hard. There are some things we need to clean up and readjust. In terms of the effort, I'm very proud of the effort. They know they can compete with the best in the game. country.
Effiong finished second in the 400m, winning her section in 52.56, currently third among middle schoolers this season behind teammate Shafiqua Maloney's 52.33. Kennedy Simon of Texas won another run in a team-leading 52.15 for the overall victory.
Razorbacks' 400m runs also included Burks-Magee (52.73), Wilson (52.81) and Peoples (53.83) as they placed sixth, eighth and 12.and globally. Wilson joined Effiong to win his round.
In the 60m hurdles, Yoveinny Mota and Jayla Hollis finished third and fourth with times of 8.13 and 8.14. In the prelims, Hollis hit a career-best 8.11, moving to No. 5 on UA's all-time list as she bettered her previous PR of 8.15 from 2021.
LSU's Alia Armstrong won the hurdles final in 7.96 with runner-up Masai Russell of Kentucky in 8.01.
Jada Baylark finished third in the 60m final with a season-best 7.21 to finish behind Julien Alfred of Texas, who produced a college-leading 7.10 that also ties the current world lead time while beating installation (7.13) and meeting (7.17) records. Kentucky's Abby Steiner was second in 7.17. Finishing behind Baylark was LSU's Favor Ofili with a 7.26.
Baylark also finished fourth in the 200m with a 23.39 while Razorback rookie Joanne Reid won her heat in 23.76 to rank sixth overall and improve on her indoor debut of 23.94 from last week. .
Razorback freshman Ashanti Denton won Section B of the 200m with a career best 24.07.
A career-best jump of 40-2 (12.24) put Alexis Torns fourth in the competition and ranks her 11th on the UA all-time list. Torns moved to the top of the overall standings when she produced her PR as the first jumper in round two. Last week, Torns set a career-best 39-5 (12.01) at the Arkansas Invitational.
"Alexis breaking that 40-foot mark is huge for her," Johnson noted. "It showed signs of aggression, and I think she was quite happy with it."
A second group of Razorbacks won a section of the 4×400 relay that included B relay teams, running in 3:35.07 against Texas (3:38.59) and LSU (3:45.63), for rank fourth overall among the 20 teams in the race. in the event. The splits for Team UA included Wilson (54.37), Hollis (52.00), Baylark (54.06) and Reid (54.64).