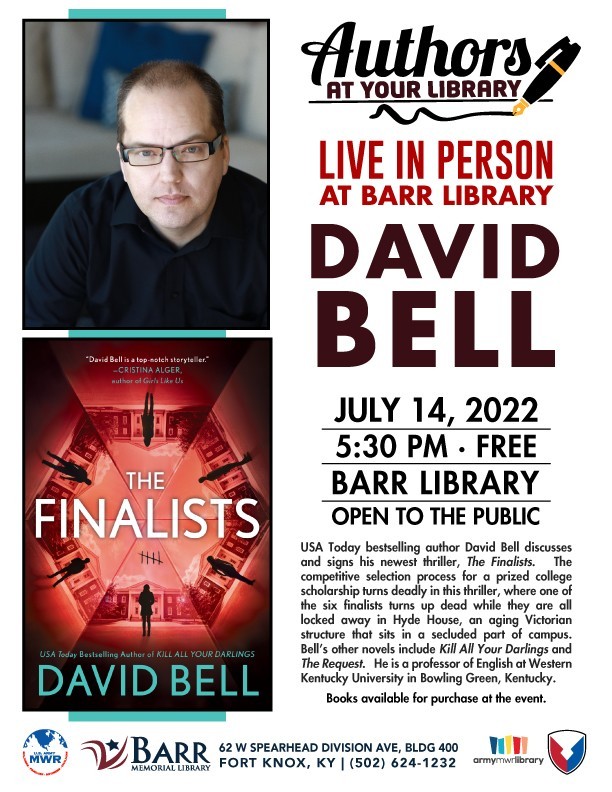 FORT KNOX, Ky. – The Barr Memorial Library will host award-winning and international bestselling author David Bell for a live, in-person Authors at Your Library event on July 14 at 5:30 p.m.
Bell will be on hand to discuss his latest thriller, The finalistsat the event.
Competitive selection for a prized college scholarship turns deadly in The finalists. One of the six finalists is found dead while they are all locked up in Hyde House, an aging Victorian structure in a secluded part of campus. Now the others fear being eliminated one by one. With a protest raging outside and no way to escape, the survivors turn violently on each other. The finalists is a chilling and profound look at the lengths students and colleges will go to for survival in a resource-starved academic world.
Bell published his first novel, The convictedin 2008. He followed it with The girl in the woods (2009), and Cemetery Girl (2011). Cemetery Girl won the prestigious Le Prix Polar International de Cognac award for best crime novel by an international author in 2013. Following the success of this book, Bell has published 10 other books, including someone i knew (2015), Someone's Daughter (2018), and Kill All Your Darlings (2021). Bell has appeared on the New York Times bestseller list several times. Her novels have been translated into several languages, including French, Portuguese and Mandarin. Kill all your darlings was nominated for a 2022 Edgar Award.
Bell is an English professor at Western Kentucky University, where he co-founded the MFA in Creative Writing program. He spends his free time supporting the Cincinnati Reds and Bengals, watching movies, and walking around the cemetery near his home. Bell lives in Bowling Green, Ky., with his wife, writer Molly McCaffrey.
This program is free and open to the public. For more information, contact the Barr Memorial Library at 502-624-1232 or visit the website https://knox.armymwr.com/programs/barr-memorial-library.