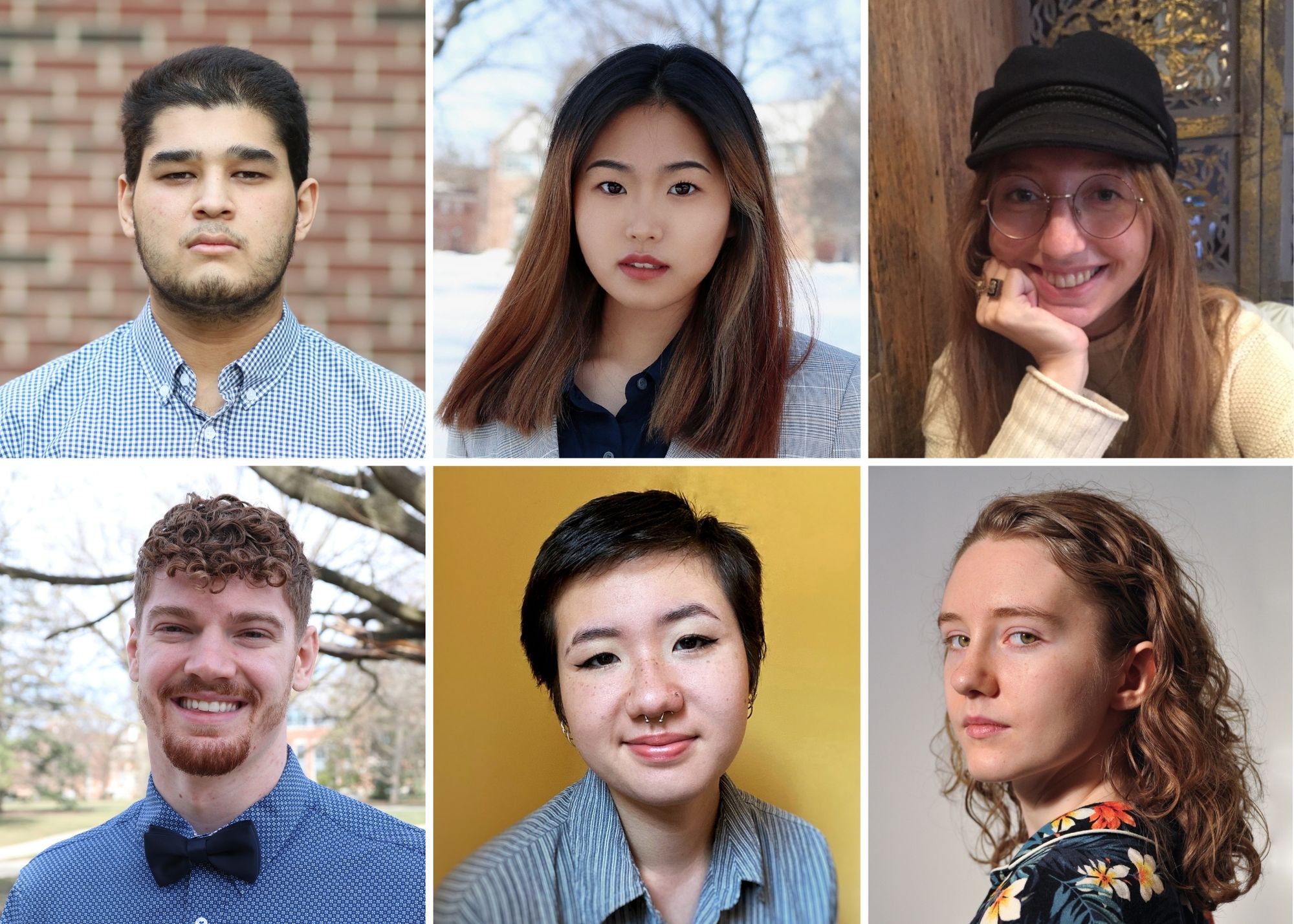 May 4, 2022
BLOOMINGTON, Illinois – Illinois Wesleyan University announced six student recipients of the 2022 award Robert S. and Nell B. Eckley Summer and Artist Fellowship Program.
Established by the late IWU President Emeritus Robert Eckley and his wife Nell, the recognition provides a $4,000 stipend for each scholar to spend the summer conducting academic research or artistic pursuits under the mentorship of a faculty member. The program is designed to develop and deepen a student's creative and research skills.
The students selected for the scholarship, their projects and their sponsoring professors are:
Student: Ali Khatai '23
Project: "Data transmission using tunable higher order Bessel beams".
Faculty Sponsor: Gabe Spalding, B. Charles Professor of Physics and Joyce Eichhorn Ames
Majors: Physics and Computer Science with a minor in Mathematics
Hometown: Rawalpindi, Pakistan
Student: Chloe Xu '24
Project: "Exploring Peer Pressure Influences on Body Image and Eating Disorders."
Faculty sponsor: Marie Nebel-Schwalm, assistant professor of psychology
Majors: Psychology and Interdisciplinary Education
Hometown: Beijing, China
Student: Maria Harmon '23
Project: "Investigating the "well done" surprises of poetry.
Faculty sponsor: Micheal Theune, Robert W. Harrington English Teacher
Disciplines: English Literature and Marketing
Hometown: Springfield, Illinois
Student: Tyler Maple '22
Project: "The effects of reflective performance resetting on the performance of elite high school athletes: a preliminary study."
Faculty Sponsor: Todd Lowder, Head Men's Athletics Coach and Head Strength & Conditioning Coach
Disciplines: Biology and Hispanic Studies
Hometown: Plainfield, Indiana
Pupil: Anja Schrag '23
Project: "An exploration of personal identity through an autoethnographic solo performance"
Faculty Sponsor: Michelle Gibbs, Assistant Professor of Theater Arts and Head of Undergraduate Theater Arts Program
Majors: English Literature and Theater Arts with a minor in Philosophy
Hometown: Champaign, Illinois
Student: Emile Ottinger '23
Project: "Devastation, Reconstituted: Queer Restorative Ecopoetry"
Faculty Sponsor: Michael Theune, Professor of English and Director of the Academic Writing Program
Majors: environmental studies and writing in English
Hometown: Shawnee, Kansas

By Kailee Galloway '23